Is it that season again.... the engagement season? is there an engagement season though? i know about the wedding season which is just around the corner. OK this post is not really about the season or lack of season for engagements but about that ring. the one ring that opens up discussions or closes them (according to different cultures - another blog post for another day).
This post was really inspired by the beautiful smiles that are followed by the "i said yes" posts and relationship status change on Facebook and all social media with the beautiful shinier thing on them lucky (lucky? i wonder if i should even use that word, but hey) ladie's fingers. i just wanted to maybe give advice on or heads up. because i have seen some not so engagement like rings flashing on and i was deeply hurt instead of being overjoyed & get ready to send some congrats messages.
in my own opinion, and i can be wrong - which i refuse to be -an engagement ring is a small symbol of his prmise to marry you, soon and according to
wikipedia
"An
engagement ring
is a ring indicating that the person wearing it is engaged to be married," meaning that it is not a wedding ring and it should not look like a wedding ring. even though an engagement ring can be used as a wedding ring i doubt a wedding rings should be used for engagement.
Just to get that point across, here are some nice engagement rings to consider, ladies teach your men. and the few men that reads my blog, please if you cant for the life of me get it right ask her friends or family. please note that an engagement ring does not have to be expensive but it must make all the friends jealous. lol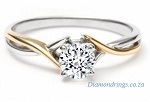 just a few from
Diamondrings
A gem from
Shimansky Collection
nice neh...from
Arthur Kaplan
and the gold one from
Mazal diamond
Now congrats to those engaged and all the best to those hoping for it to happen this season...
love & light
Ms Van Vee